BREEAM
Pandox has certified seven properties according to BREEAM In-Use Very Good. Pandox have also started the process for additional properties to be certified. BREEAM stands for Building Research Establishment Environmental Assessment Method and is an environmental certification system from United Kingdom. There have been several versions of BREEEAM since the 90's and it is now the most spread international systmems in Europe.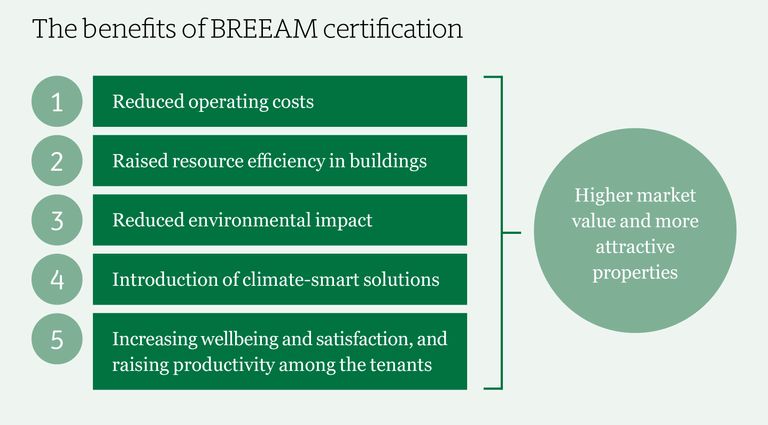 An important element of Pandox's work is to obtain environmental certification for the properties and operations. This independent third-party certification is a mark of quality and
provides proof of the efforts being made at the hotel properties. Certification is a tool to improve environmental performance by implementing measures in buildings as well as in management processes and operations. It is also a good tool to increase internal knowledge of and commitment to environmental work.

Pandox's aim is to achieve a BREEAM In-Use rating of Very Good. The goal is to certify all 12 properties included in Pandox's first green investment programme no later than 2023. At the beginning of 2021 three properties were certified at the Very Good level. In 2021 an additional two hotel properties were certified at the same level within Operator Activities.
Certification of Pandox's properties in Property Management that are leased to other hotel operators is also an important area of focus. However, here agreement and cooperation are needed between Pandox and the tenant before a decision on certification can be taken. To obtain certification it is necessary to upgrade, for example, systems and technical installations, and a significant commitment from the tenant's employees is also needed. Various routines must also be integrated into the hotel operator's day-to-day operations and maintenance plans. At this time, this is outside existing lease structures, which means that the tenants need to regard BREEAM
certification as a business opportunity for them as well.
In 2021 Scandic Luleå was BREEAM-certified as a pilot project within Property Management, with positive results. The project is being used as a basis for further discussions with tenants about certification and green supplementary agreements