BREEAM
Pandox has certified its first three properties according to plan for BREEAM Very Good. The other nine properties have started the process to be certified. BREEAM stands for Building Research Establishment Environmental Assessment Method and is an environmental certification system from United Kingdom. There have been several versions of BREEEAM since the 90's and it is now the most spread international systmems in Europe.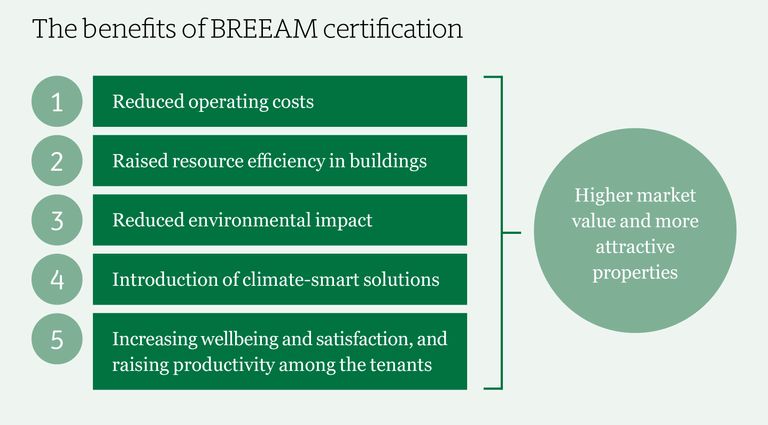 An important aspect is to certify all 20 buildings in the Operator Activities segment according to BREEAM In-Use, to obtain an independent quality certification for the work done on the properties. BREEAM is the established standard in Europe for green buildings. The certification
process involves assessment and a scoring system in the following areas: Energy, Transport, Water, Resources, Pollution, Health and Wellbeing, Land Use & Ecology, Resilience and Management. Certification is a tool to improve environmental performance by taking steps during construction
as well as in management and operation, and is a way to internally increase knowledge of and commitment to environmental efforts. Pandox's goal is to achieve a rating of Very Good.

The aim is to certify 12 of the properties no later than 2023. In 2020 three of four planned properties were certified with a rating of Very Good. They are located in Bremen, Dortmund and London. The fourth property, in Glasgow, was impacted by Covid-19 restrictions and had to postpone the process until the beginning of 2021. The other eight properties have held launch meetings. All certifications follow the green investment programme to ensure that Pandox will
benefit from the relevant BREEAM scores and business benefits in the areas of energy and water. Decisions will be made in 2021 on the remaining eight properties in Operator Activities that are not included in the green investment programme.
It is also important to certify Pandox's properties in the Property Management segment. Here, however, agreement and cooperation with Pandox's tenants before certification decisions can be made are needed. This requires upgrading of, for example, systems, technical installations and access to operations-related information. It also requires significant involvement by the tenant's personnel to produce the relevant documentation. This is not yet within the boundaries of existing agreement structures. Certification of the pilot project for the extension of Scandic Luleå, which began in 2019, is therefore very significant. The process is expected to be completed in 2021 at the Very Good level for New Construction.