Renewable energy
Pandox long-term goal is to increase the use of renewable energy sources, which is part of the Company's ambition to offer green properties. One part of that can be to install solar panels so the hotel can produce its own electricity.
In 2021 the total share of renewable energy – for example from wind and hydropower –
was 41 percent of the total energy consumption. For hotels within Property Management renewable energy accounted for 39 percent and in Operator Activities, 48 percent.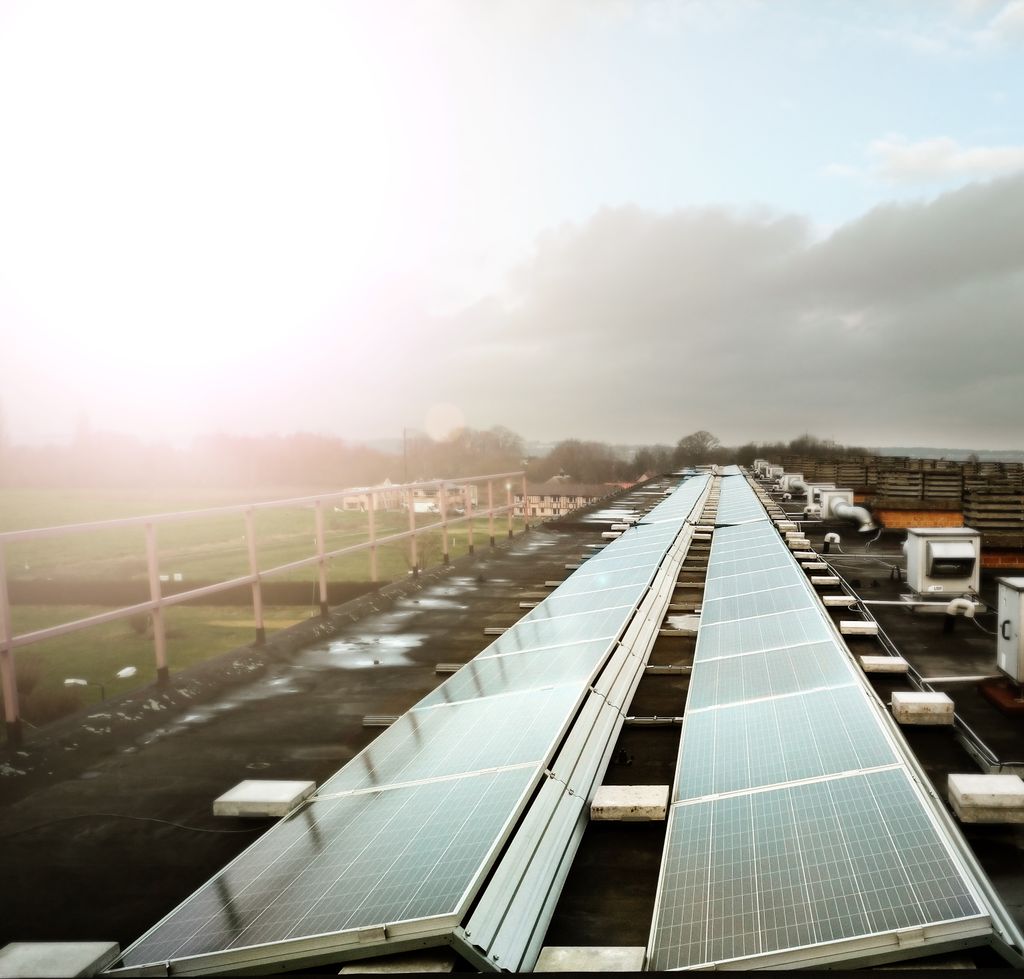 SOLAR POWER
Pandox's aim is to install solar panels on hotel roofs within Operator Activities if the conditions are good. The goal is for 30 percent of the hotels in Pandox's Operator Activities segment to have solar panels installed on their roofs no later than 2023.
In 2021 solar panels were installed at Hilton Brussels Grand Place and Hilton Garden Inn London Heathrow. This means that 25 percent of the 20 hotels now have solar panels installed. In 2022, solar panel installation is planned for Holiday Inn Lübeck and Mayfair in Copenhagen. More hotels are being evaluated. At the hotels it operates, Pandox produced a total of 1,000
(310) MWh of solar energy in 2021.

REDUCED GHG EMISSIONS
Pandox's largest sources of direct GHG emissions come from fuel combustion in its own operations and any leakage of refrigerants, which give rise to Scope 1 emissions. Pandox also purchases electricity, district heating and cooling, which give rise to Scope 2 emissions. Pandox's total market-based GHG emissions in Scope 1 and 2 amounted to 6,112 metric tons of CO2e.
In 2021 Pandox focused on gaining a better understanding of GHG emissions that arise in the value chain and that the Company is indirectly responsible for. The Company's largest Scope 3 emissions upstream in the value chain come from purchased building materials, products and services, mainly in connection with new construction, reconstruction of properties and hotel renovations.
For the first time, Pandox performed a lifecycle analysis of the first part of the value chain for a new build project, a reconstruction project and two hotel renovations. Also in 2021, Pandox conducted a spend analysis of the supplier ledger for purchased goods and services. The purpose of these analyses was to get a better understanding of GHG emissions upstream in the value chain and to identify ways of reducing emissions going forward.
The lifecycle analyses showed, among other things, that building carcasses and beam structures constituted the largest emissions items in new construction, and in renovations, furniture was the largest item. A key factor in reducing emissions in the future will be to choose the right materials, but also the right supplier and the right product.
Downstream in the value chain means emissions from tenants' hotel operation, mainly from energy consumption, which is the single largest emissions category. Pandox is also working on reducing emissions from waste and business travel. Corporate travel is business-critical in order to develop Pandox's operations. It does, however, give rise to a significant share of emissions. The handbook for head office employees has travel instructions urging them to choose alternatives to air travel if possible. During the year Pandox has in large part used digital conferencing platforms instead of having physical meetings.
Through a solar energy project in India, Pandox was able to carbon-offset its Scope 1 emissions, which amounted to 3,511 metric tons of CO2e. The project has Gold Standard certification.