Guest satisfaction and safety
Satisfied guests are the result of the hotels being operated successfully. Pandox's properties must also be safe and secure – both for those working there on a daily basis and those visiting temporarily. The Covid-19 pandemic has imposed new requirements on the organisation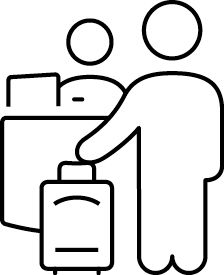 Pandox targets and results for guest satisfaction and safety focus area.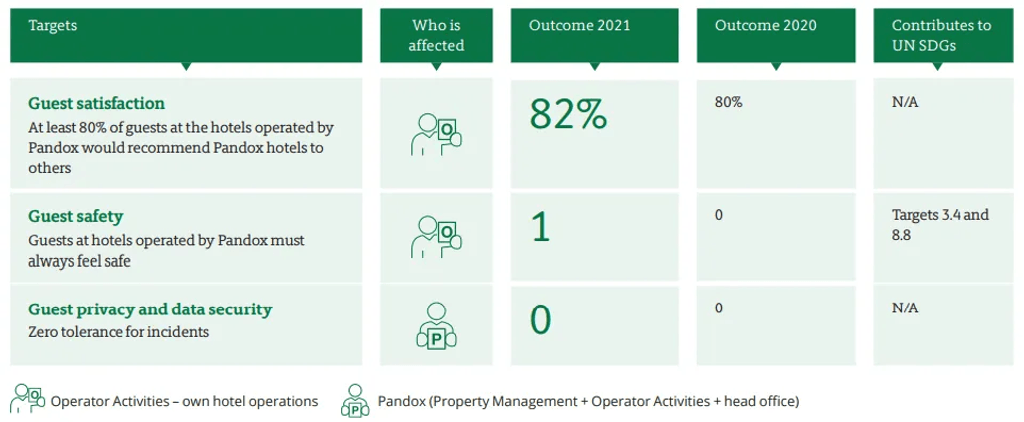 Guest satisfaction is one of the most important indicators in Pandox's Operator Activities segment, as it shows how well the hotel is living up to guest expectations. Indirectly it is also a measure of the competitiveness of the product that Pandox is offering its tenants in the form of attractive hotel properties.
What primarily drives hotel guest satisfaction is personal service, individual attention, products that offer value for money, safety, consistent quality of service and product delivery, community engagement and a focus on the environment.
Conference bookers and business travellers are demanding that hotels are environmentally certified and are able to report GHG emissions per guest night. Leisure travellers have also
started to require this, as more and more people become aware of the climate crisis today. According to Booking.com, 65 percent of travellers want to stay at a hotel with green certification. Both Google and Tripadvisor offer an option to search for green hotels. According to Google these searches have increased four-fold since 2020.
Pandox's target for the hotels it operates is that at least 80 percent of the hotel guests will recommend the hotel to others. Guest satisfaction was 82 percent according to Pandox's annual guest survey, which was conducted by an external party in 2021. The increase can primarily be linked to the lifting of Covid-19 restrictions, which resulted in fewer limits on what hotels were able to provide, compared with the previous year.
Finding new uses for hotels
In 2020 and 2021 many hotels were used as quarantine hotels by various groups, such as the military, students and business travellers. This was very demanding in terms of food management, services and extra personnel.
Evangelos Cambouris, General Manager of Holiday Inn Brussels Airport, which launched a programme of loaning personnel among Pandox-operated hotels, talks about this:
"Between November 2020 and June 2021 we functioned as a quarantine hotel, which meant that we needed to produce individually wrapped and vacuum packed meals. We produced a total of 114,000 meals, including breakfast, lunch and dinner. All of a sudden we found ourselves with a staff shortage, so we asked colleagues at Pandox's other hotels in Brussels to help us out. My theory was that it was better to utilise those from within Pandox's own operations who had no work than to recruit temporary personnel"