Guest satisfaction and safety
Satisfied hotel guests are vital for the business to be successful. Pandox's properties must also be safe and secure – for the guests, those working there on a daily basis and those dropping in. In 2022 the majority of the Covid-19 restrictions were lifted and guests returned to the hotels.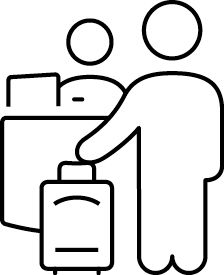 Pandox targets and results for guest satisfaction and safety focus area.
Satisfied hotel guests
Guest satisfaction is one of the most important indicators within Pandox's Operator Activities because it shows how well a hotel is living up to guest expectations. Indirectly it is also a measure of how competitive the products Pandox offers to its tenants are in terms of attractive hotel properties.
Pandox's objective for the hotels it operates is for at least 80 percent of the hotel guests to recommend the hotel to others. Guest satisfaction was at 83 (82) percent according to Pandox's annual guest survey, which was carried out by an external party in 2022.
What primarily drives hotel guest satisfaction is personal service, individual attention, products that offer value for money, safety, consistent quality of service and product delivery, community engagement and a focus on the environment. This, in combination with the pent-up travel demand among guests following the pandemic, is the reason for the high level of guest satisfaction. Guest occupancy increased from 36 percent on average in Pandox's portfolio in 2021 to 60 percent in 2022.
Those booking conferences and business travel expect hotels to have environmental certification and to be able to report GHG emissions per guest night. Individual travellers have also started demanding this as more and more people are aware of the climate issue today. According to Booking.com, 81 percent of travellers want to stay at a hotel with green certification in the year ahead. Both Google and Tripadvisor offer an option to search for green hotels.
Hotel guest health and safety
The hotel guests expect the hotels to be safe and secure, to promote good health and to provide memorable experiences. The hotels are to be safe places to be in and the employees must have the right skills to operate them in a safe and professional way.
Pandox is responsible for ensuring that all of its 157 hotel properties follow building norms and other laws and safety regulations.
Within the Property Management segment it is the tenant who is responsible for all forms of security, such as perimeter protection, for example window and door alarms, security guards and surveillance cameras.
Within Operator Activities Pandox is responsible for security. Hotel safety is an area covered in Pandox's Code of Conduct for employees. In addition, all hotels in have emergency preparedness plans and safety policies in place. Safety is also a topic covered in the Company-wide digital training. The employees also receive training in first aid, and all hotels regularly perform fire and evacuation drills.