Guest satisfaction and safety
The hotel guests expects the hotels to deliver safe and memorable guest experiences. The premises shall be safe and the employees shall have the right knowledge to conduct business in a safe way. Satisfied guests at the hotels, operated by Pandox, are the result of the hotels being operated successfully. Pandox's properties must be safe and secure for those working there on a daily basis and those temporarily visiting. The Covid-19 pandemic has put new pressure on the organisation.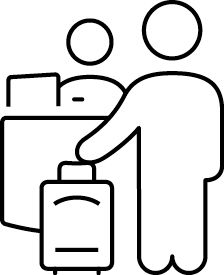 Pandox targets and results for guest satisfaction and safety focus area.

Guest satisfaction is the most important indicator in the Operator Activities business segment as it shows how well a hotel is living up to the guests' expectations and indirectly how competitive the products Pandox offers its guests are, in the form of attractive properties. Drivers of guest satisfaction include personal service, individual attention, products that offer value for money, safety, consistent quality of service and product delivery, community engagement and a focus on the environment. People booking conferences and travelling in business inparticular want hotels to be environmentally certified.

Leisure travellers have also started to require this, as more and more people become aware of the climate crisis today. Pandox's long-term objective is for guest satisfaction to exceed 80 percent for hotels that have been included in Operator Activities for one year or more. Guest satisfaction
was 82 (85) percent according to Pandox's annual guest survey, which was conducted by an external party in 2020. The decrease can mainly be linked to restrictions due to Covid-19 such as those that limited supply, for example restaurant closures.
Hotel guests expect the hotel to deliver a safe and memorable experience. The hotel premises
are to be safe and the employees must have the right skills to operate them in a safe and secure way. Within the Property Management segment it is the tenant who is responsible for all forms of security such as perimeter protection, for example window and door alarms, security guards and surveillance cameras. Within Operator Activities, Pandox is responsible for security. Hotel safety is an area covered in Pandox's Code of Conduct for employees. In addition, all hotels in Pandox's Operator Activities segment have emergency preparedness plans and safety policies in place. Safety is also a topic covered in the Pandox Code of Conduct training. The employees also receive training in first aid and all hotels regularly perform fire and evacuation drills.
Being proactive during the pandemic
As a consequense of covid-19, Pandox took precausions in order to make sure the premises to be safe for the guests to be in. Pandox cleans public areas in the hotels, like toilets, entrances and lobby, more frequently as well as the most touched surfaces.
Hello Patrick Krueger, Director of Operations Germany. Can you tell us about some actions you
took to increase safety during the pandemic?
"One important step we took was to proactively obtain the Bureau Veritas SafeGuard hygiene label for five hotels that we operate ourselves. The hotels were the first in Germany to obtain this certification which guarantees that appropriate health, safety and hygiene protocols are in place. The purpose is to be able to provide a safe environment for guests and employees during the pandemic. It includes training personnel in the increased hygiene standards required during a pandemic. The certification was then communicated to the guests via the hotel's website and in display at the hotel, to reassure the guests that they could feel safe on the property. This initiative was highly appreciated by employees and guests."