History
Pandox was founded in 1995 by Securum and Skanska who's mission was to take over and restructure a hotel portfolio and prepare it for a subsequent divestment.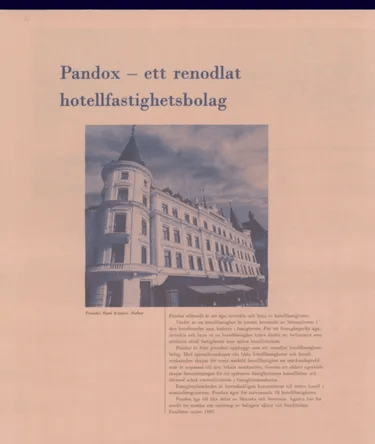 1995
The beginning
In the beginning, Pandox portfolio comprised 18 properties and three small hotel operations. All of the hotels were located in Sweden, and with a mix of small and large hotel properties in various conditions and situations. Following the foundation of the company, the business model of Pandox was implemented on an asset-by-asset basis with divestment of non-strategic properties, restructuring of the agreement structure, capital investments and expansion of the geographical footprint.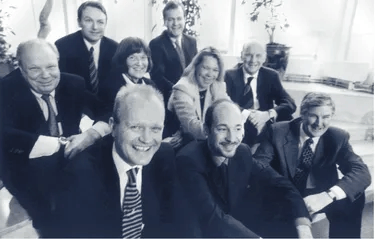 1997
Pandox IPOs at the Stockholm Stock Exchange
Pandox is listed on the Stockholm Stock Exchange. The company's portfolio is valued at SEK 1.3 billion and the market capitalization is MSEK 520. The initial public offering results in 4,000 new shareholders, and after the listing Pandox expands rapidly with acquisitions of large hotels in strategic locations. Smaller hotels and hotel operations are divested.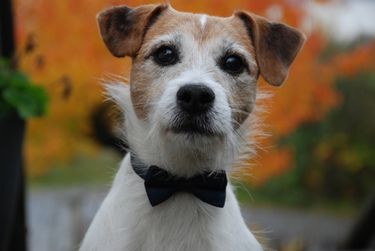 1998
Jonny appointed as Pandox's first Corporate Dog
Pandox's corporate dogs have since the start always been the company's most valuable advisors.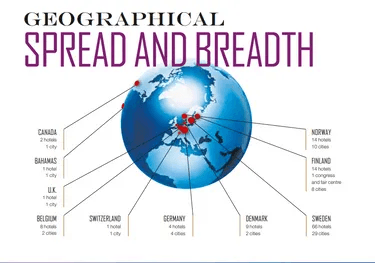 2000
Pandox expands geographically
Pandox expands its geographical footprint to other parts of Northern Europe through the acquisition of Hotellus, the property owning company of Scandic, with a total of 16 hotel properties.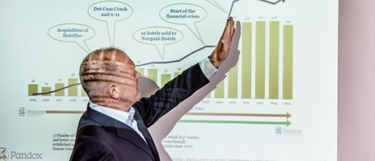 2004
Pandox is being acquired and de-listed
Pandox is acquired by the industrial investors Eiendomsspar AS and Sundt AS through a public offer. The shares are subsequently de-listed. After the privatisation, Pandox grows in scale as it acquires several large hotels in Berlin, Brussels, Basel, Copenhagen, Stockholm and Malmö.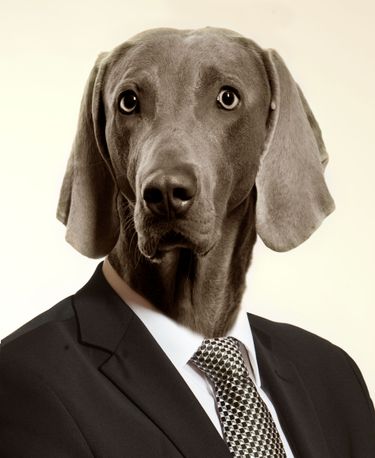 2006
Enzo takes over as new Corporate Dog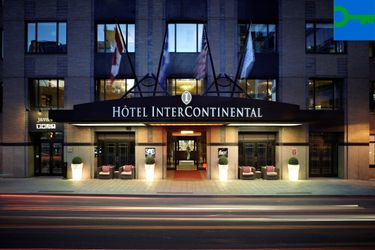 2007-2008
International expansion
In the summer of 2007, Pandox acquires the well-known InterContinental in Montreal for 49 million Canadian dollars, equivalent to MSEK 330. This is the company's first establishment outside Europe.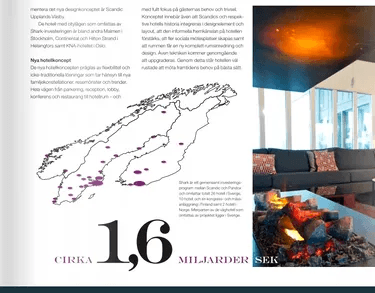 2010
Pandox acquires Norgani Hotels
In the autumn of 2010, Pandox announces the acquisition of Norgani Hotels, with a portfolio of 72 hotel properties in Sweden, Finland, Norway and Denmark, with a transaction value of close to SEK 10 billion. Through the acquisition, Pandox becomes one of Europe's leading hotel property companies.
Following the 2010 acquisition, Pandox concludes an agreement with Scandic to renovate, upgrade and develop 40 of the hotels. The project is the largest collaboration agreement ever between an owner and an operator in northern Europe.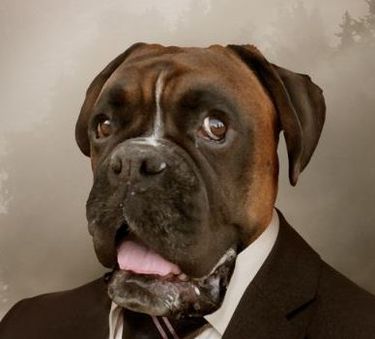 2011
Mr Harry steps up to become new Corporate Dog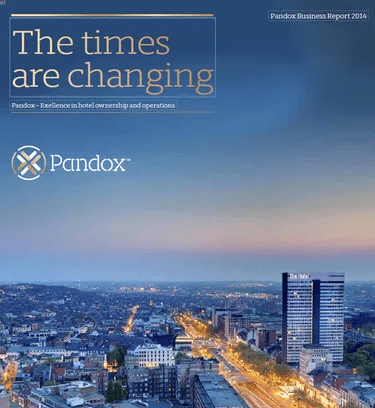 2014
High activity in the portfolio
In 2014, Pandox completes the renovation of over 30 hotels and over 30 are ongoing. Growth-driving investments in 2014 amount to more than MEUR 55.
Successful repositioning projects in Germany
Through extensive repositioning, development and renovation, Radisson Blu Dortmund, Radisson Blu Bremen and Holiday Inn Lübeck are all being optimized to reach their full potential.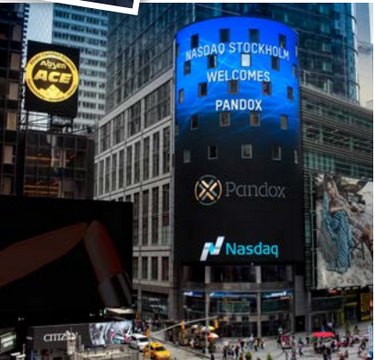 2015
Pandox's shares are listed - again
Pandox's B shares are listed, for the second time in the company's history, on Nasdaq Stockholm on 18 June, 2015. The price in the offer is set at SEK 106 per share, corresponding to a market value of SEK 15.9 billion. Pandox is also celebrating 20 years as a leading hotel property company.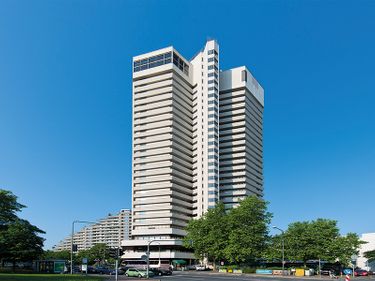 2015, part 2
Large acquisition in Germany
Pandox acquires 18 hotel properties, the majority under the Leonardo Hotels brand, in Germany for just over SEK 3.6 billion. As part of the agreement, 25-year revenue-based leases with good guarantee levels are signed with the hotel operator Fattal Hotels.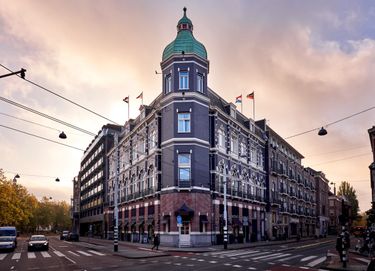 2016
Strenghtened position in Germany and Belgium
Pandox acquires eight hotel properties in Europe, of which four in Germany, two in Austria, one in the Netherlands and one in Belgium. The acquisitions further strengthen Pandox's market position in Germany and Belgium and establish Pandox in two new countries - Austria and the Netherlands. The portfolio is refined through the divestment of eight smaller hotel properties in Sweden.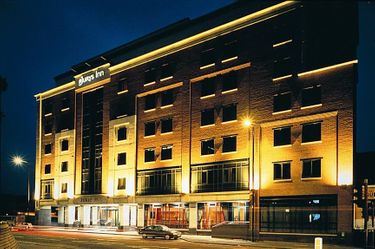 2017
Big step into the UK
Pandox acquires 37 hotel operations in the UK and Ireland for MGBP 800, in partnership with Fattal Hotels Group. Following the merger, Pandox will retain 21 hotel properties and Fattal Hotels Group will acquire 36 hotel operations. When completed, Pandox's share of the total purchase price amounts to 680 MGBP.
Pandox acquires Hilton London Heathrow Airport T4 for MGBP 80.
Pandox acquires Hotel Berlaymont in Brussels for approximately MEUR 33.
The theme for this year's Hotel Market Day was "A dynamic and uncertain world - implications for the hotel sector"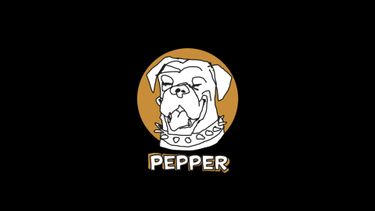 2017, part 2
Pepper appointed as new Corporate Dog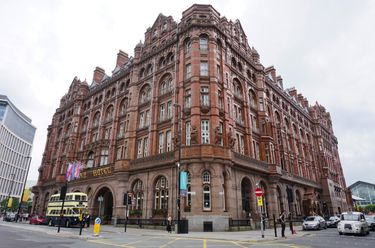 2018
Acquisition of the iconic The Midland Manchester
Pandox acquires the iconic The Midland Manchester, in the upper premium segment, with 312 rooms for MGBP 102 and the upper middle-class hotel Radisson Blu Glasgow with 247 rooms for MGBP 39. Scandic Ferrum in Kiruna is sold for MSEK 286.
The hotel market day 2018 was about "Urbanization and the hotel sector".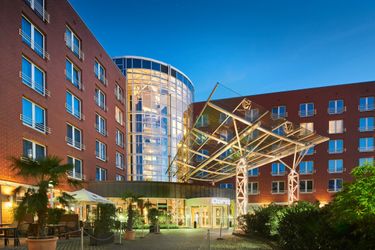 2019
Deeper presence in Germany
Pandox acquires seven hotel properties in Germany for MEUR 290. The hotels are full-service hotels in the upper middle scale segment with an average size of 219 rooms. Furthermore, one hotel in Hanover, Germany, and one hotel in The Hague, the Netherlands, are acquired for a total of MEUR 83. Pandox also acquires Hotel Maritim Nürnberg for MEUR 61.
The Hotel Market Day 2019 was on the theme "Paths to a sustainable hotel world".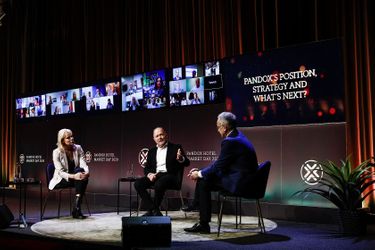 2020
An unprecedented year in the hotel history
The year was dominated by Covid-19 and the restrictions that were implemented to stop the spread of the virus, which had a massive negative impact on demand in the hotel market.
The Hotel Market Day 2020 was on the theme "New trends in a changing hotel world" which was explored with the help of well-known speakers and industry experts. The event was digital for the first time and has been seen by over 2,000 people on Pandox's website.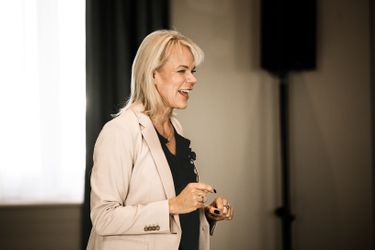 2021
New CEO and positive market signals
2021 started very weakly due to government restrictions that limited demand in the hotel market. As the vaccination programs were successfully rolled out, the restrictions gradually eased, which led to a very strong recovery during the second half of the year, driven mainly by domestic leisure travelers.
Liia Nõu is appointed new CEO of Pandox after former CEO Anders Nissen tragically passed away on 30 May. Liia Nõu has been the company's CFO since 2007.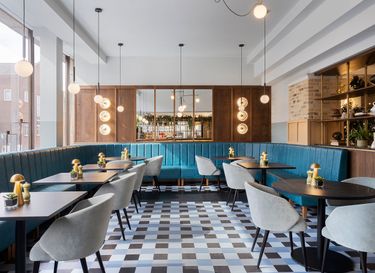 2022
Fast and strong market recovery
The hotel market's recovery in 2022 was both faster and stronger than we had dared to hope for when the year began. After a weak start due to pandemic restrictions, demand picked up significantly once they were lifted. Now, three quarters later, RevPAR in Pandox's portfolio is largely back to levels before the pandemic (nominally), the difference being that average prices are higher, and occupancy is slightly lower. We can once again see proof of the hotel market's ability to overcome difficult crises.
During the year, Pandox completed two acquisitions (Bath, UK and NH Louise Brussels, Belgium) and three disposals (InterContinental Montreal, as well as the two smaller Mora Hotell & Spa and Scandic Kajanus)