Inclusive local communities
Hotels play a vital role in the community. They create jobs, a place to stay overnight and experiences, but they also make a positive contribution to community development and to safe and secure neighbourhoods. Pandox wants to help create vibrant, inclusive and safe local communities.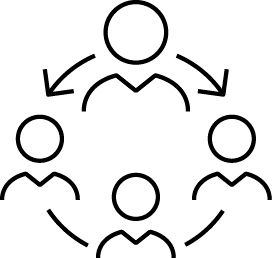 For an inclusive local community
Hotels have a significant role to play in the local community by providing a place to stay for the night, experiences and meetingplaces, and as employers and purchasers of local products and services. Hotels are also a vital part of the tourism industry as they generate income for the government at the national and municipals levels and for the local community. By working closely with the local community and employing people who live in the area, hotels can also contribute in a positive way to social sustainability.
46 (54) percent of Pandox employees live within a 10 kilometre radius of the hotel where they work, and 3 (4) percent of the employees live in socioeconomically vulnerable areas. Pandox uses local and regional companies for technical operation, property services and laundering of linens and towels. The Company's ambition is to use local food suppliers to the greatest extent possible.
The hotel properties also play an important role in creating safe and vibrant city centres. Safety in the vicinity of the hotels can be improved by, for example, lighting up entrances and facades. Of the 20 the hotels in Operator Activities, 18 (17) have lighting at their entrances and 20 (17) have surveillance cameras.
Pandox's targets and results in the inclusive local communities focus area
Community engagement
Pandox wants to be involved in and contribute to local communities in the areas where Pandox's employees have particular expertise, skills and interests. Pandox's community engagement strategy aims to ensure that all hotels in Operator Activities, as well as the head office, support at least one local project. The choice of organisation or project is determined by the employees, as real engagement comes from the grass roots.
In 2022 the majority of the hotels in Operator Activities were engaged locally and several of them supported multiple initiatives. Examples of projects include providing food to homeless people, offering internships to young people with functional disabilities and sponsoring Pride in Copenhagen. Pandox is proud of the many initiatives that its hotels and teams have been involved in during 2022. To have an even greater impact through its projects to support local communities, a more strategic approach will be adopted. The purpose is to find shared issues for the hotels to focus on, to make the projects the hotels are engaged in more impactful. The hotels will still be very active in selecting projects going forward. The new strategy will be launched in 2023. This effort also includes monitoring and measuring outcomes.