Certifications
Pandox's main environmental impact comes from the properties – primarily from heating and electricity and the use of building materials. Therefore Pandox is focusing on various activities to reduce energy and water consumption and to increase resource efficiency in operation, production and distribution.
Pandox's ambition is for all of the hotels in Operator Activities to have Green Key certification – unless they already have another environmental certification – within three years of being acquired or operation being transferred. At the end of 2020, 100 (83) percent of the hotels were environmentally certified. Green Key certification is one of the leading standards inenvironmental responsibility and sustainable operations in the tourism industry, including hotels.
In Property Management, 80 (69) percent of the tenants' hotels have some form of environmental certification. Examples of certifications used are Green Key, Nordic Swan, ISO 14001 and Green Tourism. Pandox follows up annually on environmental certification and is in discussion with the tenants who do not yet have any certification in place.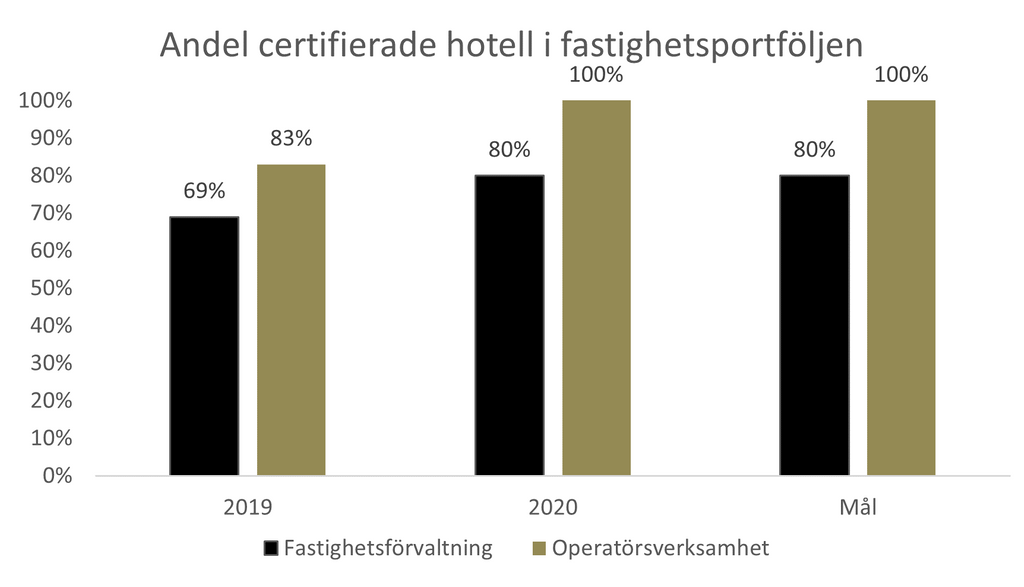 Green Key – an international environmental certification within the tourism industry
The Green Key award is the leading standard for excellence in the field of environmental responsibility and sustainable operation within the tourism industry with over 3000 certified businesses in over 60 countries. This prestigious eco-label represents a commitment by businesses that their premises adhere to the strict criteria set by the Foundation for Environmental Education and is supported by World Tourism Organization (WTO) and United Nations Environment Programme (UNEP).
The Green Key label is an easy to use tool within the tourism industry for those who want to improve their operation in responsibility and sustainability. Green key helps hotels, campings and conference centers to communicate their sustainability work and also maybe to reduce the operational costs.
Read more on https://www.greenkey.global/
Reduce food waste with AI
On average food waste represents 4–12 percent of a hotel company's food costs. To reduce food waste, Pandox implemented a pilot project in 2019 with Radisson Blu Hotel, Dortmund, Crowne Plaza Brussels – Le Palace and The Hotel, Brussels, in cooperation with food tech company Winnow. Categorising and registering all food that is thrown away provides a better understanding of overproduction and improved purchase planning. Measured as a percentage of sales revenue, costs were reduced by just over 40 percent on average, due to less waste
from costly ingredients and reduced production of low-demand buffet items.

The plan was to roll out the project at the majority of the hotels in Pandox's Operator Activities segment in 2020, aiming to reduce
food waste by an average of 30 percent per hotel by the end of 2023. Due to Covid-19 the project has been postponed until occupancy resumes to normal levels, since the project is based on volumes. Winnow's new artificial intelligence solution will be used in the rollout. This involves a computer and cameraautomatically scanning and categorising all food that is thrown away.