"Many say the hotel business is a bit of an addiction or a lifestyle - and I agree"
Evangelos Cambouris is the multitasking General Manager with focus on the guest, the team and sustainability
September 23, 2021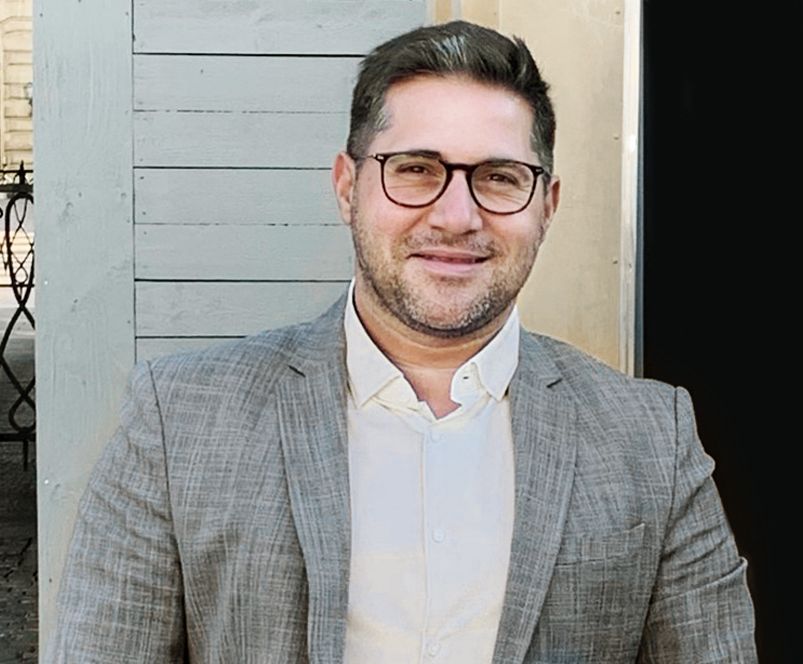 In 2018, Evangelos Cambouris was the first one out to take part in the leadership program at Hotel Hubert as the Maître de Maison of the hotel for six months. He is now the General Manager of Holiday Inn Brussels Airport. He has the hospitality with him since young years and always tries to find solutions with the best of the guest and the business in focus.
How and when did you enter the hospitality industry?
I'm Greek and already in my childhood I was surrounded by hospitality among friends and family. Already in early years I wanted to visit hotels and see what was behind the walls.
When I was 18 years old, I started to study hotel management and went on internships. Almost 20 years now since I started in the business. Many say it's a bit of an addiction or a lifestyle, and I agree.
What was your first job in a Pandox hotel?
In 2004 I started in Pandox as an assistant night manager at Crowne Plaza Brussels - Le Palace (now DoubleTree by Hilton Brussels City), the hotel was just bought by Pandox from NH. I learned the Pandox spirit and organization change for productivity and the entrepreneurial philosophy. I like it a lot, it focuses on the force of the individual. After that I grew within the hotel as night manager, then assistant front office manager. I left Pandox for a year and returned from Accor in 2011 as Front Office manager at Crowne Plaza - Le Palace. In 2018, I took part of Pandox development leadership program as the first Maître de Maison for Hotel Hubert and in 2020 I was promoted Operations Manager at Holiday Inn Brussels Airport for 1 year and since January 2021 I'm the new General Manager at the hotel.
Please tell us more about taking part in the leadership program at Hubert.
I was involved in the pre-opening of the hotel. It was fun to open the hotel for guests and as a Maître de Maison you live and eat with the guests. The purpose is to develop within Pandox and find future leaders. I learned a lot since I was surrounded by experts and let the team advice. As a General Manager you are not alone, and you must lead by example and handle a modern organization.
What did you learn or develop thanks to the program?
Modern leadership, to be present on the floor, encourage the staff and to be curious to be successful and, of course, financial profitability. The hosts are important for guest satisfaction. The work rotation was a challenge and at first some employees were not comfortable with change, so we tried to find solution and confidence to grow and handle the change. I think we have been successful, and it is a learning process on a daily basis. I was happy when the staff wanted me to stay but I'm sure my successors have done a great job. I developed multitasking and the motivation to self-growth. My goal is to give a great experience in hotels and restaurants and that the guests feel welcome. I am motivated by the guest reviews. The product and the whole experience including surrounding and service. The hardware is one thing and the software another, maybe even more important part.
There is a saying that the customer is always right, what is your best advice to handle a dissatisfied customer?
Our job is to make guests happy and to improve our reviews. I try to offer different solutions the guest can choose from by adding something that is not a price reduction. I've turned dissatisfied guests into happy guest that has returned afterwards. Listening is key, and different compensation to choose from, so they feel important to the hotel. A complain is actually a chance to improve and establish a relationship, if the issue is solved. It's key to be present and active to handle these situations and I try to encourage my staff to be able to handle these situations by themselves, to push the staff to react and respond. Negative reviews might lead to lower occupancy and then the rate might have to be decreased and the bad circle is there. Happy guests giving good reviews are our best ambassadors, so a good guest recovery process is important.
What would you be working with if not being in the hospitality industry?
It would still be a job in the service sector. I'm amazed by the service feeling of my team and I need direct contact with people, staff, or customers. It is in my blood. Perhaps a teacher, sharing my passion for knowledge and learn from others.
What's the best part of the job as a General Manager?
No routine, every day is new never like the day before. Multitasking is exciting. And to be surrounded by all great people in this multicultural arena, learning and experiencing from guests and staffs, it's a bit like travelling.
How is Holiday Inn Brussels Airport working with sustainability?
In several different aspects, we have monitoring tools for consumption of electricity and water, we use no chemical products for cleaning, which is now also certified by IHG. Less chemicals reduce the negative impact on environment and the health and safety of the staff, both important aspects. We offer a free drink in the bar if the guest decline room and towel cleaning. We have also engaged in F&B for more local products, and we have seen that less choice gives less waste. We are producing our own electricity from the solar panels on the roof. I would like to invest more in wellbeing of the staff with new flexible offices, with good ergonomic and lighting, heating, and circulation. I believe that happy staff gives happy guests and good numbers.
Thank you for sharing your experiences and giving us the chance to follow your journey to where you are today. Is there anyone you'd like to suggest for the leadership program at Hotel Hubert?
The person shall be an operational person. Someone not afraid of dirty hands since it requires hard job and work together with guests and staff. The challenge is what you do after Hubert, you need to be stimulated afterwards thanks to all the new experiences.