Attractive and equal workplace
Pandox has 1,880 (1,560) employees who come from 90 (85) different countries, which reflects the diversity in the hotel industry. Pandox wants to create the right conditions for motivated and independent employees who have a clear mandate in their roles, and for equality and inclusivity in the workplace.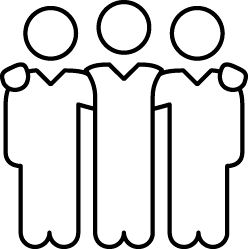 Pandox's targets and results in the focus area attractive and equal workplace
The majority of Pandox's employees work at the hotels operated by Pandox within Operator Activities. Withing Property Management Pandox has a small number of employees and consultants who are responsible for various markets. Other dayto-day property management is carried out by subcontractors or Pandox's tenants.