Sustainable supply chains
Pandox's operations are divided into two business segments with activities throughout the hotel value chain and the Company therefore has a large number of suppliers.
Pandox's supply chain
In Property management Pandox has direct control over the suppliers. In Operator activities the degree of control depends on which type of agreement the hotel is managed under. Pandox has full influence over the sourcing process for hotels under its own brands and a certain amount of influence over hotels under franchise agreements. In management agreements, on the other hand, Pandox has limited influence over the sourcing process because under such agreements the responsibility rests mainly with the hotel operator.
In terms of ensuring a sustainable supply chain Pandox's focal point lies partly in Property Management with focus on suppliers in the construction industry and partly on suppliers in hotels within Operator Activities that are operated under independent brands or franchise agreements, because they offer the greatest opportunity for impact.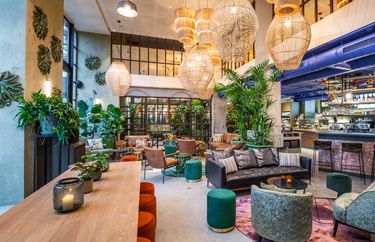 Work process
The Business Partner Code of Conduct is based on the Ten Principles of the UN Global Compact and the ILO Declaration on Fundamental Principles and Rights at Work.
The Business Partner Code of Conduct describes the expectations that Pandox has of its suppliers regarding human rights, labour, environment and anti-corruption. During the year an internal risk analysis was started to identify high-risk suppliers with respect to corruption, human rights violations etc.
A follow-up process was also started to ensure that the Company's suppliers comply with the Business Partner Code of Conduct. This process is continuing in 2020 and includes sending out a self-assessment form to high-risk suppliers, so that they can evaluate their own sustainability work. The results will then by followed up by Pandox on a random sample basis. To increase internal knowledge and expertise, relevant employees will undergo sustainable supply chain training.
In the case of food and beverage suppliers, hotels in Operator Activities have the opportunity to use Hilton's supplier platform. This guarantees that the suppliers have been scrutinised and that any discounts will benefit the users. It also minimises situations where bribes may occur.